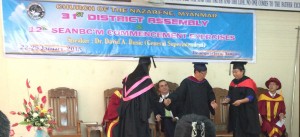 Asia Pacific Regional Education site.
We aim to become a resource hub, hosting and linking resources for education in the Asia Pacific Region.  We will be hosting discussions about education and the Course of Study.  Our primary task is the active development of the Regional Course of Study.
We are aiming to develop materials for the education of pastors, including, audio, video, art, maps, written materials, and others that will contribute to a pastor's ability to equip their congregation for service to and in the community.
Your input and willingness to volunteer are greatly needed.  We welcome comments, materials, improvements to this site or to any of the materials.  Whatever catches your interest we are wanting to hear from you.   We will review suggestions and materials before posting them. Comments are welcome and posted quickly.
This site is aimed at professional educators and others interested in education of pastors.   We welcome discussion, input, creative additions, even lively opinions!   We ask that all comments be made respecting the person and only dealing with the ideas under discussion.
We will host links to completed materials and resources that will mainly be in the  Wesleyan Holiness Digital Library.  Resources that are school specific will be linked back to that school.