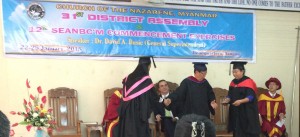 Asia Pacific Regional Education
This website is dedicated to the development of ministers of the gospel in the Church of the Nazarene. This is a resource hub of information for colleges, seminaries, extension education teachers, and students in the Nazarene Course of Study. There are four important documents for ministry preparation:
Educational Approach
The purpose for ministerial preparation is to equip people for effective ministry in the church of Jesus Christ, and more specifically, the Church of the Nazarene. Ministry, regardless of the level of involvement is ultimately the equipping and making of Christlike disciples, who make Christlike disciples. This purpose is no different to the local church Christian, those involved at the District level, or those involved in higher education. In partnership we join together to fulfill this Christ-mandated task—to make Christlike disciples who in turn make Christlike disciples.
The Asia Pacific Region has adopted the Emmaus Model as articulated by Allder and Ackerman (The Emmaus Model: Discipleship, Theological Education, and Transformation. Global Nazarene Publications, 2019: https://www.whdl.org/emmaus-model-discipleship-theological-education-and-transformation) as its approach to ministry preparation. This is a way of fulfilling the Asia Pacific Region's strategic priority of "Cohesive Theological Education." The two key features of this model are:
The ultimate outcome of such ministry preparation is to have a discipled disciple-maker growing in Christlikeness.
The lens through which all our education is to pass is "Christlikeness in and for mission".
The integration of both character formation toward Christlikeness while being in mission is essential. The synthesis of these two elements are meant to be like two sides to one coin: we cannot have one without the other.
Affirmation Statements
We affirm that our purpose is to make Christlike disciples who multiply.
We affirm the role and the equipping of the priesthood of all believers.
We affirm that theological education is about developing Christlike characters in
community.
We affirm that theological education begins in the local church with intentional
discipleship.
We affirm that the model we desire to promote and endorse is the Emmaus
Journey Model.
We affirm that in this new and varied educational model we need to create space
for intentional community.
We affirm that the theological education process must be relational.
We affirm that the educational process is a shared responsibility between the
educators, the church, the mentors, and District Ministerial Studies Board and
District Credentials Board.
We affirm the catalytic role of faculty in the development of students.
We affirm the need for transformation development of college boards,
administration, and faculty members to develop the character of students.
We affirm the importance of Wesleyan-Holiness theological tradition and
accountability.
We are affirm that we are most effective when we collaborate across the region.